Hey Dolls!
If you
haven't
already noticed I have a new look to my blog. Also a new name. "Lipgloss on my Latte". So cute right?! I love Lipgloss and I really love my Starbucks Latte's!
I found a fabulous designer, Kristen, at
KV's Design Studio
. Kristen's amazing portfolio of her work really was impressive and helped me make the
decision
to hire her for the job. Each and every design of Kristen's is so unique and has such great attention to detail. I knew she would be the right girl to give my blog a new cleaned up layout! I'm so glad I chose her.
Kristen was a joy to work with, and she was full of great ideas. The hand
drawn
graphics she made for my blog came out amazing and were exactly what I had pictured in my head. She was very patient with me and all my changes and questions throughout the process. She also gave me so many great ideas for my blog design. With her expertise my blog came out perfect!
If you're thinking about making any type of change/addition to your blog design, I highly recommend you check out Kristen at KV's Design Studio. Trust me, you won't be disappointed!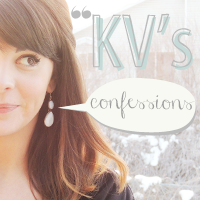 Thanks so much Kristen for giving my blog a cute, unique layout! I just love it so much! :)